Dave Draper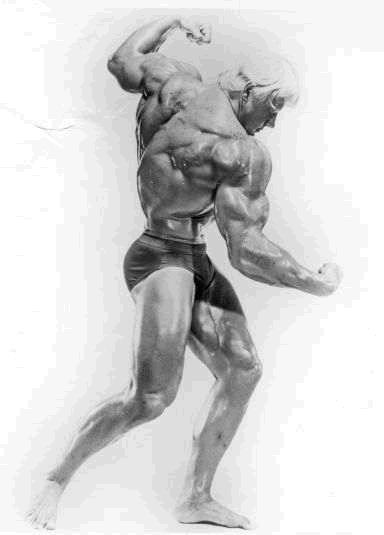 Dave Draper Legends Page!
Dave Draper's love of exercise and quest for a superior physique began when he was only 7! He saw a rugged he-man with muscles on a pamphlet for a Hercules hand gripper and the journey began. By the time he was 10 he had graduated to the three-spring chest expander, the five-spring super expander and a wall-mounted bungee-pulley on the kitchen wall. At age 12 he purchased a set of barbells and dumbbells. Eventually, Dave joined the Elizabeth, NJ, YMCA and therefore the community of iron-pumpers around the country attempting to build their physiques in these dungeons of exercise.
Dave entered and won his first contest, the 1962 Mr. New Jersey at 21. Soon he got a job with Joe Weider's fledgling company and acquired the moniker the "Blond Bomber" from Joe. A month later he was on the cover of Mr. America magazine. When Weider expanded his company to California, Dave went west too and found a family of fellow iron-pumpers with whom to thrive and grow.
The Blond Bomber became the focus of the Weider publicity campaign to draw the youth of North America to become purchasers of Weider equipment and protein powders. Dave was the center figure in the dream of a California lifestyle of sunshine and voluptuous bikini-clad women. a lifestyle that you too could enjoy by building a Weider body the way Dave had. It worked! Weider became exceedingly rich as young men sought to fulfill their adolescent dreams of being surrounded by beaches, sunshine and sexy beach bunnies. They could actually visualize themselves replacing Dave in these pictures.
Dave went on to win the Mr. America, Mr. World and Mr. Universe titles and appeared in a number of TV shows and movies, including Don't Make Waves in which he co-starred with Tony Curtis, Sharon Tate, and Claudia Cardinale.
Richard met and interviewed Dave for Florida Bodybuilding Newsletter (which Richard edited and published) in the 1970s on one of Dave's visits with his brother in Tallahassee. As usual, Dave was friendly and cooperative, couldn't have been nicer. Diane was able to catch up with Dave on a promotional tour for Dave's latest book (see picture below). Keep tuned for more on Draper who has promised us an exclusive interview.
In the meantime, check out Dave's great Web site by clicking here.
Dave and Diane

Summer of 2002
ORDER Dave's BOOKS:
watch Dave pose:
Dave's Contest Wins:
| | |
| --- | --- |
| Mr. New Jersey 1962 | Mr. America 1965 |
| Mr. Universe 1966 | Mr. World 1970 |
Magazine Covers:
| | |
| --- | --- |
| Muscle Builder 12/63 | Muscle Builder7/64 |
| | Mr America 12/64 |
| Mr America 1/65 | Muscle Builder 8/65 |
| Muscle Builder 4/66 | Mr America 10/66 |
| Mr America 11/66 | Mr America 7/67 |
| Mr America 11/67 | Muscle Builder11/67 |
| Mr America 8/68 | Muscle Builder 9/68 |
| Muscle Builder 10/68 | Mr America 3/69 |
| | Muscle Builder 3/70 |
| Mr America 4/70 | Mr America 8/70 |
| Muscle Builder 9/71 | Muscle Builder 7/73 |