Rachel McLish
The First Ms. Olympia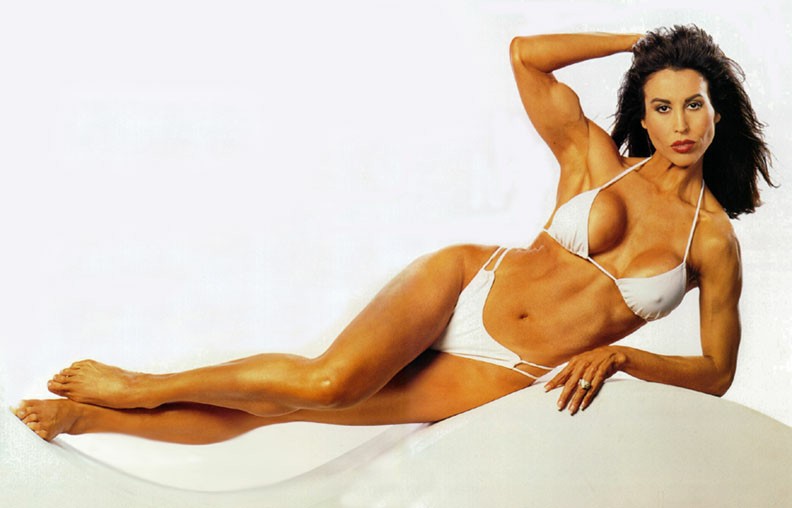 Rachel McLish Legends Page!
Born Raquel Livia Elizondo in Harlingen, Texas, June 21, 1955, Rachel McLish blasted her way onto the bodybuilding scene in 1980 from nowhere (Harlingen, Texas) by winning the USA championships. The powers that be immediately recognized the rough jewel they had discovered that evening, and she was quickly whisked off to California to be tempted by the sun, fun, and money.
What a great start for the fledgling sport of female bodybuilding! Rachel emerged later that year to win the first Ms. Olympia with a more polished presentation and an even finer physique that retained her sexy femininity.
After winning the World Pro Championships and a second Ms. Olympia contest in 1982, Rachel became a best selling author, made fitness videos and began to appear in movies. She continues to exemplify female physical perfection above all other female competitors.
| | | |
| --- | --- | --- |
| | This is what female bodybuilding SHOULD be about! | |
| | | |
Rachel's Movies:
Pumping Iron II: The Women (1984) (order)
Aces: Iron Eagle III (1992) (order)
Raven Hawk (1996)-TV
Rachel McLish: In Shape !996)-V (order)
Rachel's Books:
Flex Appeal by Rachel McLish, Bill Reynolds
Perfect Parts by Rachel McLish, Joyce Verdral (order)
Rachel's Contest Wins:
| | |
| --- | --- |
| 1980 USA | 1980 Ms. Olympia |
| 1982 World Pro Championships | 1982 Ms. Olympia |
MY FAVORITE Magazine Covers:
| | |
| --- | --- |
| Muscle & Fitness4/82 | Muscle & Fitness 1/83 |
| Muscle & Fitness 2/83 | Muscle & Fitness 1/84 |
| Muscle & Fitness 7/84 | Flex 8/84 |
| Muscle & Fitness 4/85 | Flex 9/85 |
| Muscle & Fitness 12/91 | Muscle & Fitness 7/95 |
| Muscular Development 5/96 | Flex 10/97 |