Frank Zane

Frank Zane Legends Page!
This page is devoted to one of the greatest innovators in the sport of bodybuilding. Zane redefined the concept of physical supremacy from an emphasis on mere mass to an emphasis on symmetry and proportion reminiscent of the days of ancient Greek and Roman statuary. While Zane was Mr. Olympia in the late 70s and for a few years afterwards, judging the best physique on the planet would no longer be governed by a search for the largest human on stage, but the best built!
Zane has always been different than the stereotypical bodybuilder, or has he? Growing up in the tough Pennsylvania coal-mining town of Edwardsville, at fourteen Frank decided that rather than continue to get beat up he would gain some muscle. He began to realize that he could build himself up when he happened to see a muscle-building magazine in a wastebasket in junior high school.
| | |
| --- | --- |
| Who would have thought this guy would some day be Mr. Olympia, the best bodybuilder in the world for three years straight? | |
After graduating valedictorian in high school and getting scholarships to college, he began to enter bodybuilding contests as he earned a B.S. in secondary education. Eventually Frank would move to Florida seeking better climate and training conditions. Besides success in bodybuilding, he was also successful in finding his lifelong mate in life, Christine.
With Christine's support Frank flourished and began winning more and more bodybuilding titles. It was only after beating the soon-to-be-great Arnold Schwarzenegger in the 1968 IFBB Mr. Universe in Miami, FL, that he would make the big move to California, and the rest is history.
I have had numerous occasions to be around Frank, at his homes in Santa Monica and Le Mesa, in Gold's and World Gyms in California, at contests and seminars, etc., and I have always respected his honesty and openness with me and his contemplative nature. Frank is a "thinking man's" bodybuilder. A long time Buddhist, he has learned to live life to the fullest despite the ups and downs we all experience as human beings. This is particularly evident in his retirement from physique competition.
He has retained the sense of calm that has always surrounded him through his Buddhist practices and has found in music a new love to challenge him and supplement his continuing quest to resist the aging process through sensible training and nutrition.
For those who wonder about Frank's ability to continue to train enthusiastically in his 60s, Frank revealed, "I'm just curious as to how far I can go with it. Curiosity is the driving force." He also admitted that he is "always on a pretty good diet."
When I asked him about how he's dealing with the aging process, he said, "I look back at those [magazine] covers of me at the time and I remember what I used to look like and," laughing, "yeah, if I could only look that good!" Yet he goes on to say, "Well, my priorities have changed a lot. I don't really care that much about being like that but living a relatively stress-free life." In other words, Frank has discovered the major key to a happy life: "Everything is changing all the time. You've just got to change with it."
watch frank pose:
and more:
mind-blowing images of Zane:
For all you Zane fans, check out Frank's great Web site by clicking here.
Frank and Richard

Spring of 1979

Frank and Richard

Summer of 2003

Click on the picture for an article on the visit.
Order Zane's Books and tapes:
Fabulously Fit Forever
by Frank Zane


Mind, Body, Spirit
by Frank Zane


Train with Zane
by Frank Zane


Zane's Contest Wins:
IFBB Mr. East Coast 1966
IFBB North American Championships 1966


Mr. America 1968


Mr. International 1968
Mr. Universe 1968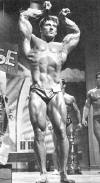 Mr. World 1969


Mr. Universe 1970


Pro Universe Winner 1972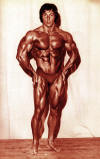 Mr. Olympia 1977
Mr. Olympia 1978

Magazine Covers:
Muscle Builder
11/66


Flex

1/84

Muscle & Fitness 2/84

Muscle Training Illustrated
4/84

Muscle Mag International


10/84

Muscle&Power 11/84


Iron Man 9/86

Muscle Builder
7-71

Flex 12/89

Muscle&Fitness 12/89

Strength&Health
1/67