Legendary Fitness Provides the Answer to Weight Loss
Learn from someone that knows…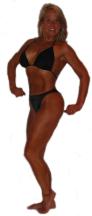 After hearing the myriad of reasons to adopt a lean, fit and healthy lifestyle, the decision is made to get in shape. You want to reduce the obesity related health risks of cancer, diabetes, heart disease and stroke while living a long and independent life filled with the vigorous activities normally associated with youth. But, where should you seek help to transform your dreams into legendary results? Legendary Fitness provides the answer.
Diane Fields is a Master Specialist in Senior Fitness, Performance Nutrition and Fitness Trainer that devotes herself to educating the Baby boomer population on the benefits of a fit and healthy lifestyle. Her vast knowledge of exercise, nutrition, supplements and resistance training gained through helping many clients reach their goals is only a small part of her success. Diane's own experience of winning the obesity battle after the age of 40 provides her with the unique insight into the psychological barriers of successful weight loss. Her goal to make overweight people believe they can achieve legendary physiques is contagious and inspirational.
Read what Legendary Fitness fan, Paul Casassa writes about Diane.
"I like to read your stuff just to see more pics of you and try to absorb some of your enthusiasm. You are an inspiration, and I'm sure you are a role model to many more people than you even realize."
Learn from a pro that's lived the challenges you will face along your journey down the path of health and fitness.
Legendary Fitness, LLC

.
Transforming your goals into legendary results…
Click here for details about Richard Baldwin.
Click here for details about the Baldwin/Fields team.
Click here to read what others have to say about Richard and Diane.